With offices

strategically placed

around the country, Alliance places a great emphasis on developing close relationships with clients and retailers within the CPG industry. Our team consists of knowledgeable, experienced professionals who are dedicated to providing exceptional service and support through developing unique strategies for your brand. Built on the pillars of

collaboration, innovation,

and

long-term partnerships

, we strive to seek the top professionals and solutions that make an impact.
We not only generate sales, we create category leaders. We are thought leaders because of our unsurpassed knowledge, innovation, and experience with retailers. We place your products in the right place on grocery store shelves with the right strategy for growth.
We maximize your food brand or beverage brand through advanced analysis and planning intelligence. Our proven reputation of success has established trust, earned respect, and built enduring relationships. See what's possible with our brokerage services.
Retailer Alignment Strategy

Category Management

Promotional Planning
New Item Introductions

Pricing Strategy

Sales Support
Data drives decisions, but data coupled with strategic insights creates category leaders. That's why we developed a proprietary suite of four tools we collectively call AISLE+, the Alliance Insight Suite. Uniquely designed to uncover opportunities for consumer goods companies, this platform has grown brands into household names.
Our business intelligence team imports data from a variety of sources including retailers, IRI, Nielson, 8451, and SPINS, and synthesizes that information to develop omnichannel strategic promotional and marketing plans to grow your revenue and your brand.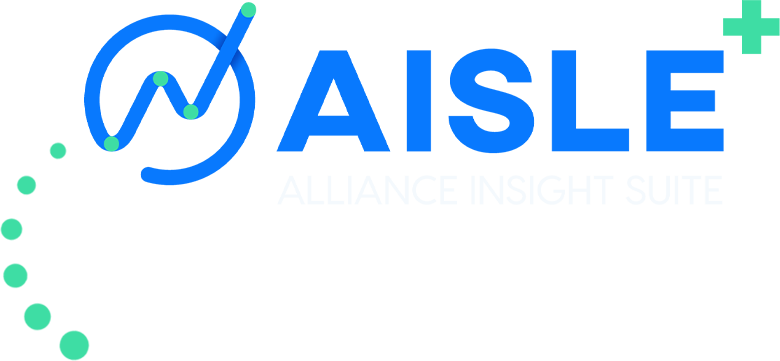 A Proven Tool for Maximizing and Calculating Retailer-Specific Promotion Strategies 
Trade Spend+ identifies how to best utilize your trade spend budget to drive trial and repeat purchase. This tool will grow your share of the basket by designing a targeted promotional plan that leverages key consumer insights, allowing you to gain a competitive edge in your category. 

An Insights-to-Action Resource Discovering Customer Opportunities  
Because of our commitment to future-forward, we're authorities in the industry when it comes to identifying trends, understanding shopper marketing programs, and identifying consumer opportunities. With our Strategy+ tool, we craft customized plans to drive actionable results.


A Data-Driven Model Identifying and Amplifying Your Revenue Potential  
Data+ offers brands the resources to become a category disrupter by formulating effective tactics to grow your business. This tool gives you an enterprise level view of your business while zeroing in on ways to boost your bottom line at every level—from the sales channel to the warehouse floor.


A Powerful Guide to Uncovering Opportunity and Mapping Future Growth  
To stay ahead of the curve and the competition, Insights+ continually scans resources to discover possible avenues to advance your brand. This process allows our Business Intelligence Team to map out the most effective growth strategies for achieving your business goals.


A Consumer Intelligence Tool Uncovering and Identifying Your Most Valuable Shoppers  
Consumer+ intelligence provides valuable insights into consumers to develop strategy, uncover shopper behaviors and characteristics, identify new segments, and target your highest converting consumer.

Alliance Sales and Marketing operates Alliance Marketing, providing a seamless experience for our brands through our direct connection to your sales teams. We provide dynamic, customized marketing solutions to ensure your brand connects with shoppers.
Our comprehensive marketing programs grow your brand based on your goals, target retailers, marketing budget, and promotional plans. Because we know the inner workings of retailer programs, we understand which activations deliver the best return on your investment. Leverage our award-winning team to engage consumers across their path to purchase.
Shopper Marketing Activations

In-Store Signage & Promotional Displays

Coupons & Sampling

Retail Media Management & Consulting
Paid Social & Influencer Marketing

Brand Strategy & Logo Design

Experiential Marketing
Ecommerce opportunities for CPG brands continue to develop at a rapid pace. Leverage our team of experts to understand the best channels to amplify your growth on the digital shelf.
We have the expertise to grow your brand online whether it's on your direct-to-consumer site, a retailer's ecommerce channel, or an online marketplace like Amazon, Walmart, or Thrive Market. From strategy development to planning promotional programs, we have processes and efficiencies in place to help you optimize your products online and quickly gain an edge in your category. Based on your goals, drive additional conversions and sales by leveraging our ecommerce capabilities.
Sponsored Search & Display

Product Photography

Keyword Optimization

Paid Social & Influencer Marketing
Email & SMS Marketing

Review Generation

Microsites & Apps
Ready to Partner with a Broker Like Never Before?