In today's ever-changing market, it's important to stay ahead of the curve. When it comes to making key decisions, business executives are relying on data. Brands that utilize data and analytics are constantly evolving and improving in the industry.
The CPG industry generates massive amounts of data which can be used for driving your brand's sales and value. It is essential for companies to invest, organize, and analyze data to generate profit over time.
Advanced Analytics
To plan accordingly, businesses have taken a data-driven approach to respond to consumer behavior. Advanced analytics allow companies to track the relationship between their business decisions and their results in real time. Advanced analytics is a data methodology that uses methods like predictive analytics, promotional analytics, and market basket analysis to organize data from a variety of sources.
There are many benefits to using advanced analytics techniques. These analytical tools can simplify supply chain management while decreasing expenditures. To save space, money, and resources, you can precisely plan, forecast, and optimize inventory. Data can also provide you a way to boost ROIs and marketing efforts by revealing information about consumer preferences and demographics.
Predictive Analytics
Predictive analytics can assist you in planning your marketing approach based on your customers' purchase habits. By assessing the same time period from the previous year, you can experiment which marketing strategy would best influence the customer's purchases. The use of social media analytics provides tracking information on key performance indicators (KPIs), each channel's effectiveness, and insights on consumer shopping habits.
Promotional Analytics
Digging into promotional analytics delivers insights into the shopper marketing and trade spend tactics that are generating the highest return for your brand. By analyzing your promotional strategy in comparison to competitors in your category for the same time period, you can understand the impact that price adjustments have on consumer behavior.
Market Basket Analysis
To better understand your buyer, market basket analysis is one of the most popular and useful methods companies use. The goal of this type of analytics is to determine the products that your consumers add to their basket when they purchase your product. This allows a business to boost sales by better marketing to their target audience and by providing an opportunity to create optimal product assortment.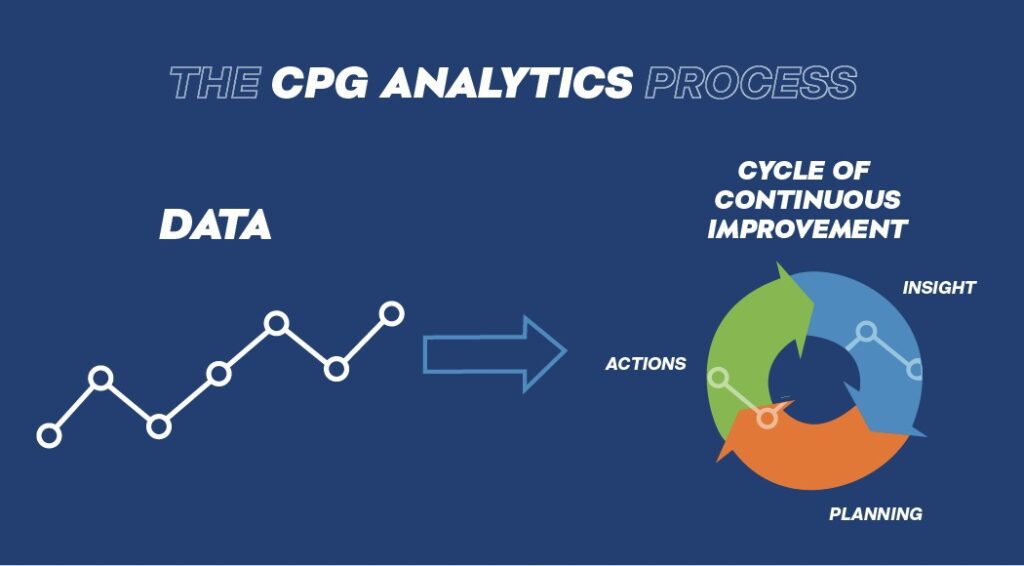 Data For Decision Making
The collection and evaluation of data from multiple sources that report retailer-level and consumer-level sales data is known as CPG analytics. By studying and recognizing trends, CPG companies can turn the data they collect into actionable information. For example, imagine points on a graph. The points represent data, while the insights you gain from examining that graph are known as analytics.
There are three different categories of analytics companies should take into account, activity data, observational data, and sales data.
Activity data
Activity data refers to actions your sales team is taking to improve sales in-store. Think about how often they are working on specific accounts or what they're doing to cover their territory. Activity data helps measure and track the sales team's actions, which in return results in a better understanding of your brand's presence by analyzing consumer demand within the store.
Observational data
In-store presence, stock levels, and competitive activity are just a few examples of observational data. This type of data is reported by representatives who make in-store visits. You can also gain a better understanding of your brand's presence by analyzing demand for competitors within the store.
Sales Data
The third category of CPG analytics is known as sales data. This refers to how much of your product is sold over a period of time at different store locations. This allows you to see if there are certain locations where your product has more demand. By using this type of analytics, you can cater your marketing strategies to the locations where consumers purchase your product the most.
Why Use Data and Analytics?
Big data and advanced analytics boost a company's value and earnings. Businesses can enhance the efficiency and quality of their supply chain by gathering insights on the planning, sourcing, and manufacturing. Consolidating data from different locations allows you to manage inventories and lower expenses while you focus on more profitable items.
By providing information about preferences and purchasing habits, data analytics assist marketers in improving their approach. CPG marketers must leverage this customer data to personalize the customer experience. Understanding consumer behavior and product performance allows for a more personalized experience for the customer.
Overall, you can predict and adapt to market changes by utilizing big data and analytics. Companies can make better informed decisions about how to allocate resources more efficiently while generating the most value by measuring and managing this data.
Alliance Sales & Marketing grows brands nationwide by providing a data-driven approach and extensive industry experience. Contact us today to learn more on how we can bring your vision to life.